International award for our team
We received the Best of Contest Award at the 24th International Kyiv Advertising Festival. This award was given to our team for the development of a digital product that supported an important social campaign. Together with our internal development team Panowie Programiści, we developed an app to promote critical thinking among teenagers.
200,000 scanned pages of the textbook, more than 100,000 views of the critical thinking lesson, almost 2.5 million contacts with the campaign on the Internet and an advertising equivalent estimated at more than EUR 0.5 million are the effects of the campaign, in which the 180heartbeats + JUNG v MATT and the Gazeta.pl were involved, pro publico bono, in addition to Panowie Programiści and Sparing Digital. Together, we decided to unmask the manipulated messages and propaganda content of the textbook, which was distributed to Polish secondary schools in September 2022.


Its author, Professor Wojciech Roszkowski, writes in the book about children conceived using in vitro methods as "a product of the human breeding programme". He attributes cultural perceptions of gender to fascism, and blames Western sexual debauchery and 'neo-Marxism' for the rise of women's and LGBT+ rights movements. Elsewhere, the author portrays Black Lives Matter as a vindictive racist movement against white people, according to him, as slavery was an acceptable social and legal norm in the 19th century. The textbook in this form has been approved for use by the Polish Ministry of Education.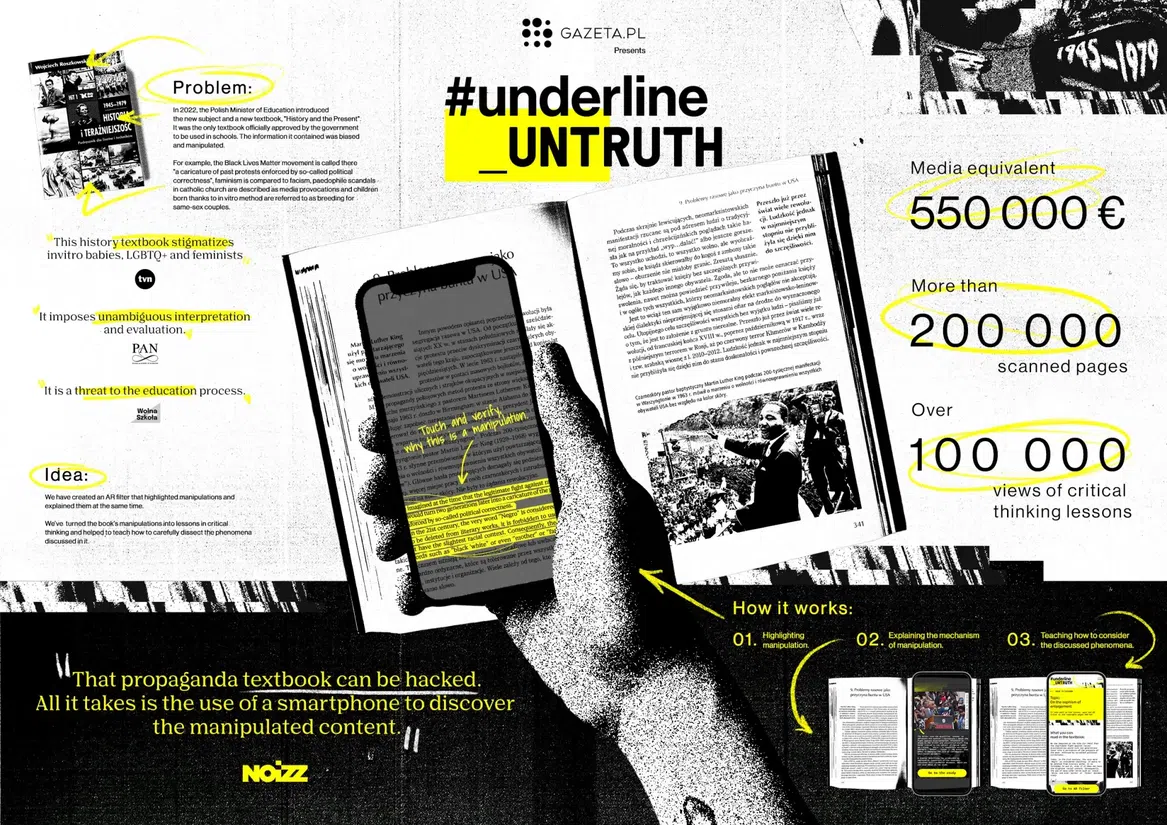 To unmask the content presented in the book, the campaign's creators reached out to new technologies. - We created a website with an augmented reality (web AR), mechanism that allows high school students to scan the textbook with their phone's camera. When the system detects manipulation or propaganda content, it highlights on the screen and presents an explanation based on objective scientific knowledge, says Adrian Holota, CEO of Sparing Digital. The studio turned to web AR technology to get young people interested in the campaign. - Using augmented reality does not require the installation of an application. All you need is a web browser, which every smartphone is equipped with. Details of this project are presented in the case study.

The jury of the 24th Kyiv International Advertising Festival awarded nine Best of Contest prizes, including one for series production. "Lesson of Critical Thinking" was the only campaign from Poland awarded with this title.