NAVIPARKING: B2B sales support service
Project
development

UX design

UI design

product discovery

product building
Why should building a B2B sales support website be preceded by a strategy workshop? See how NaviParkig helped us create a website to support B2B sales.
Client
NaviParking is a company that digitalises existing car parks. Its market advantage is an advanced IT system that optimises the use of parking spaces. It gives apartment building administrations the ability to rent out vacant parking spaces to external guests, office building managers allow parking spaces to be shared between employees and hotels offer fast service to motorised guests. For drivers, NaviParking provides them with the NaviPay app, which stores their parking access rights.
Challenge
NaviParking's main sales volume is through B2B relationships. Its offering is very broad, as it meets the needs of customers operating in different market sectors. The company approached us to help build a new web portal. It was to act as an umbrella service for its extensive service offering and support B2B sales.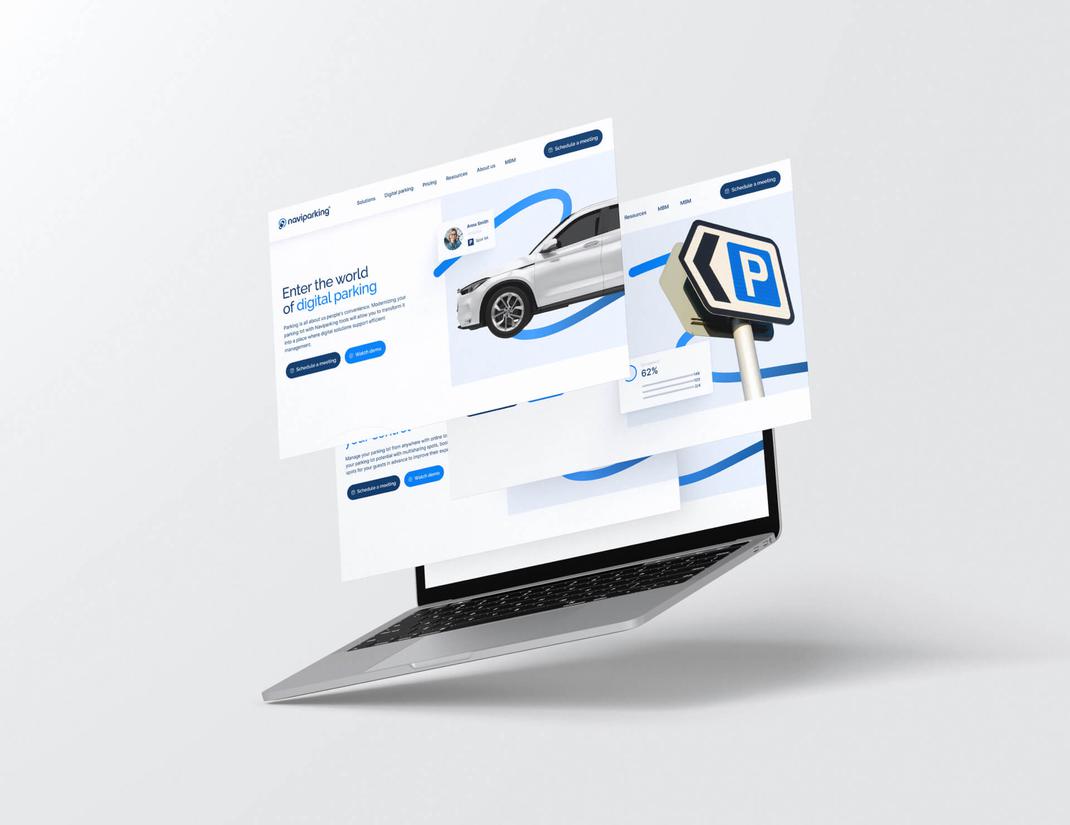 Workshop
In the first stage, we carried out a workshop in which we sought answers to questions together with NaviParking managers:
What does the purchase path look like for potential customers?
Who are the buyer personae that make the decision to choose a service provider?
What are their needs?
What values are they looking for?
How does the company respond to customers' needs?
How can it provide them with the values they are looking for?
What does the service sales process look like at NaviParking
As a result of the two-day workshop, we better understood the expectations of NaviParking's customers and tailored the company's services to them. We identified four core offerings with the greatest market potential.
Website programming
We built the B2B website on the basis of our proprietary CMS. We extracted fixed design motifs from the graphic design. So, for example, it is a photo with a headline, two sentences of description and a call to action button. Or a carousel with any number of slides, each labelled with a number and including a title and headline. The administrator is now free to build sub-pages of the website from such prepared sections. His work resembles assembling a house from ready-made blocks. It is therefore simple and does not require advanced programming skills. New content for the site must be matched to the templates, so that the expanded site does not lose its visual and navigational coherence.
Advantages of a built B2B website
Focusing on the four offers with the greatest B2B potential
Description of services, emphasising values attractive to buyer personas
Intuitive navigation within the site
Ability to test different content layouts on users
CMS that allows sub-pages to be built quickly from widgets
CMS that makes it easy to construct graphically consistent landing pages
CMS that optimises sub-pages for SEO
Technologies
Frontend: Vue.js + nuxt.js

Backend Python Django